ヨフ
2019
LED Lamp, LED Strip, Wood, Computer
W5500 x H3000 x D10000 mm, Plane size : W720 x H535 mm
「2D Painting」は、2019年3月にシリーズ1作目を発表したもので、本作はその新作となる。
壁に切り抜かれた矩形と、その奥に配置されたいくつかのオブジェクトから成る。それらのオブジェクトには個別に照明が当てられ、ゆっくりと配色が変化する。
タイトルにある2Dとは、2つの空間(Depth)を意味している。イメージを構成しているのは三次元空間に配置されたオブジェクトでありながら、定位性を失わせる特殊な構造と色対比によって二次元的イメージ(絵画的空間)としての認識の優位性が高まる。現実の三次元空間と二次元の色彩によって喚起される絵画的空間、この2つ空間の横断を体験することになる。
This work consists of a square window cut out of a wall and some objects behind it.
These objects are individually illuminated and slowly change color scheme patterns.
The "2D" in the title refers to two types of "Depth".
It is perceived as a two-dimensional image (pictorial space) depending on the special structure and color scheme that cause loss of localization, but actually the image is composed of objects arranged in a three-dimensional space.
This work holds two depth: a real three-dimensional space and a pictorial space evoked by two-dimensional color scheme. Viewers will wander crossing these two depths.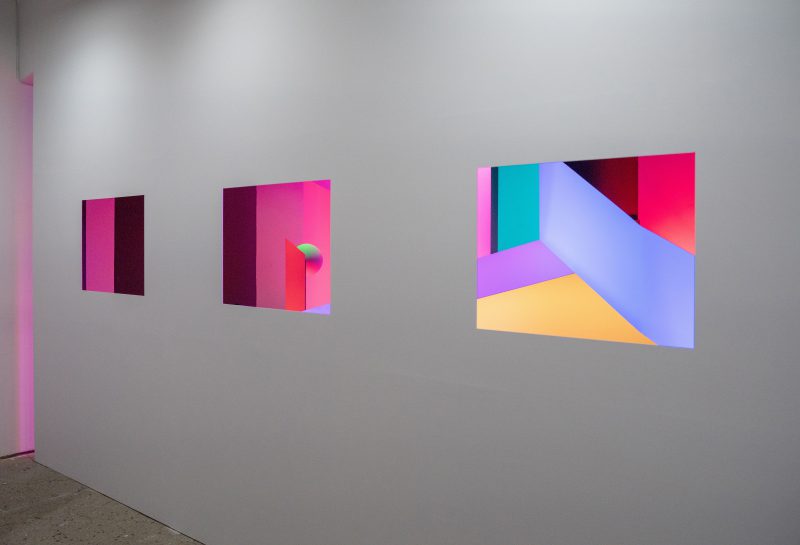 壁の後ろの空間(W5.5 m x D5 m)にある7つのオブジェクトと、21灯のLED照明で構成される。
照明は約6分かけ、ゆっくりと10個の配色パターンをループする。
It consists of 7 objects and 21 LED lights in the space (W5.5 m x D5 m) behind the wall.
Those lights loop through to change slowly 10 color scheme patterns in about 6 minutes.
« Works